CS 176B -- Network Computing
Homework Assignment #1
Due in class on Thursday, January 18, 2001
Assignment Overview
This assignment contains a list of 50 acronyms and names ranging from protocols to network services to reference models. Your job is to make some sense of them all, both with respect to what each means and also how each relates to the others.
Assignment Details
Here is the list of 50 acronyms:
| | | | | |
| --- | --- | --- | --- | --- |
| AAL5 | Aloha | ARP | ARQ | ATM |
| CDMA | CSMA | CSMA/CD | DSL | DVMRP |
| EGP | Ethernet | FDDI | FDM | FTP |
| HDLC | HTTP | ICMP | IGMP | IGP |
| IP | IPv6 | IPX | ISDN | MOSPF |
| MPEG | NCP | NNTP | NTP | OSPF |
| PCM | PIM | PoS | PPP | RARP |
| RIP | RSVP | RTCP | RTP | SLIP |
| SMTP | SNMP | TCP | TDM | Token Ring |
| UDP | URL | WDM | X.25 | XTP |
There are two parts to this assignment:
Expand each acronym and in one sentence give a definition of the term.

Develop a novel way of representing the information you have collected. The goal is to develop something that is simple and straightforward, yet conveys the complex inter-relationships among those terms that actually have relationships. A good presentation of your results will be a significant portion of your grade.

As an example, below is a figure drawn by Kamil Sarac for a paper on multicast monitoring tools. Notice how the figure conveys lots of different information by using axes, lines, and proximity.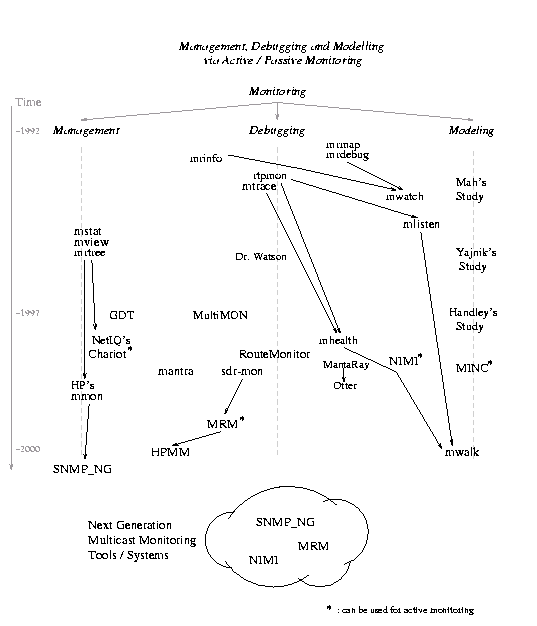 The key to this assignment is to be able to describe the sets of acronyms that do have relationships to each other but not to over do it and create relationships where none exist. A good way to start is to use the reference model to layer functionality and then group protocols according to it. The goal is for you to demonstrate that you understand these acronyms beyond just knowing the acronym expansion.
What to Turn In
This assignment is to be done individually, though you may discuss your thoughts and ideas with your classmates.

You only need to turn in a hard copy of your homework (due in class), but the assignment must be done entirely in some kind of digital format. Since I will not see the source, you can use anything you want, for example: HTML, Latex, Word, etc.